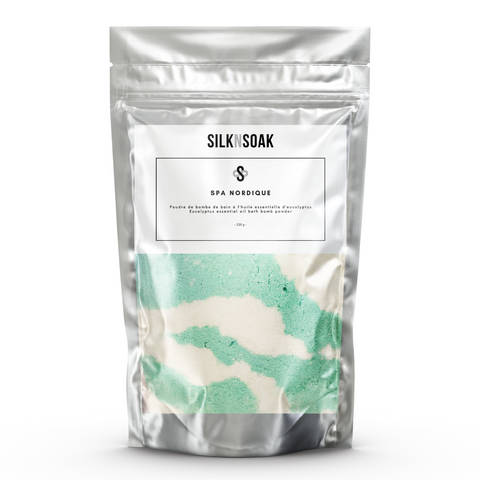 SILKNSOAK
Spa Nordique bath salt soak
📦 FREE SHIPPING OVER 100$ (Québec only)
✔︎ Relaxing ✔︎ Rejuvenating ✔︎ Destress
Indulge in Tranquility with Eucalyptus Bath Salt Soak – A Haven of Relaxation
ESSENCE: 100% Eucalyptus
AMBIANCE: Haven of Relaxation
A Serene Haven: Immerse yourself in a haven of serenity with our Eucalyptus Bath Salt Soak, enriched with shea butter, grape seed oil, Epsom salts, and kaolin. This rejuvenating blend captures the essence of 100% Eucalyptus, soothing the mind and liberating the senses, providing the ultimate spa-like experience.
Emotional Benefits of Eucalyptus: Eucalyptus promotes mental clarity, helping you unwind and destress after a long day.
Bath and shower set
Save 10% off when you buy the bath and shower duo. Experience the same scent whether you're showering or taking a bath.